"Promoting choral excellence throughout Ohio."
Kent Vandock is 2022 Distinguished Service Award Winner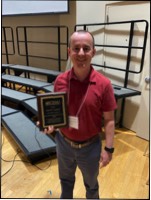 Excerpted from OCDA Vice-President, Brandon Moss's presentation speech at the 2022 OCDA Summer Conference
Kent has had a distinguished career as a choir director at Archbold and Perrysburg High Schools, has served as OCDA's Treasurer for over 15 years, and has volunteered extensively for OMEA, serving as a district President, an adjudicator, as a previous All-State Choir chair, and now as the All-State Ensemble Coordinator, among other roles. According to his nominator, Dr. Hilary Apfelstadt: "When I served on the OCDA Board…I was struck by [Kent's] level of detail, his meticulous documenting of our finances, and the reasoned approach he brought to the job. Then I spent a year in the national office of ACDA as Interim Executive Director where I saw how all the states operate financially, and realized that Kent is a true standout. OCDA is exceedingly fortunate to have him in this role as Treasurer. ACDA has many dedicated and competent volunteers, but Kent is in a league by himself. OCDA's solid financial footing is, in part, due to the steady and skilled leadership Kent provides and the collaborative way in which he works with the Executive Committee and the Board. The role of Treasurer is very time-consuming and completely volunteer, with no financial compensation. It is also highly specialized. I highly recommend Kent Vandock for the Distinguished Service [Award] as someone who is not only a fine musician and teacher, but a servant-leader who brings honesty and integrity to two professional organizations."
I will add to Hilary's comments to say that I have served with Kent on the board for over a decade, and in that time, I have never stopped being amazed at Kent's work on behalf of our organization. Not only is he, as Hilary said, a treasurer and volunteer in a league by himself, he knows more about how this organization is run than anyone else, in fact, than most of us combined. He is our unofficial resident parliamentarian, he is our institutional memory, he has opinions and he brings them to the table when warranted, but he understands and executes the most fair and impartial balance between his role as Treasurer and his role as a member of the organization. He is not a miserly treasurer, he encourages us to use our funds for the advancement of our profession in Ohio, and he cares deeply about the many things OCDA has to offer. On top of all this, he is a steady, even-keeled professional who manages to juggle an insane amount of responsibilities with ease and still play what I know to be his favorite role—a loving husband and father. It is my most sincere pleasure to present the 2022 OCDA Distinguished Service Award to Kent Vandock.
Spring 2022 Edition of the OCDA News Now Available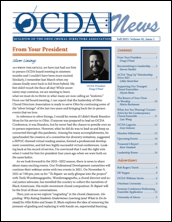 The Spring 2022 OCDA News
, the newsletter of the Ohio Choral Directors Association, is now available for viewing and download as a pdf.
In this issue:
Doug O'Neal provides details about our upcoming summer conference;
Laura Kitchel offers insight regarding mentoring a student teacher;
Jordan Saul addresses vocal health in rehearsal;
Katie Silcott shares her Sunshine Ratio philosophy;
Tyler Skidmore proposes ways to engage your audience's eyes; and
Scott MacPherson describes a timely commissioned composition by Cecilia MacDowell.
Previous editions of the newsletter are available here
.
Treble Choral Festival Coming Back
We look forward to bringing back the Treble Choral Festival in Winter of 2023 but are looking for your input to best serve our beginning choral singers! Please take two minutes to complete this survey to help us plan:
https://forms.gle/7b22StiqBBH3Brgv9
MS/HS Free Clinics with Retired OCDA Teachers
OCDA is reactivating our 2020 project with retired members who are willing to serve as clinicians for your choirs before contest or other performances. We will provide a set of "extra ears" at no cost to your school. OCDA will cover travel and there is no required honorarium.
Click here for the list of available clinicians
. Please contact your desired teacher via email as provided. If you have general questions about the project, contact Hilary Apfelstadt at
hilaryapfelstadt1@gmail.com
.
DEI Resources Now Available
OCDA is proud to offer a new space on it's website dedicated to Diversity, Equity and Inclusion resources.
Click here
to see what's available.
OCDA News Archive Now Available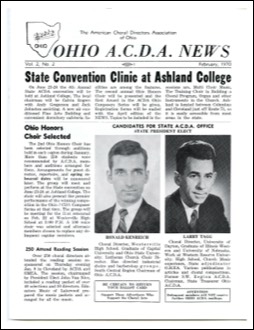 OCDA is proud to announce the introduction of the OCDA News Archive. Thanks to the efforts of OCDA Historian, Amy Gelsone and IT Coordinator, Eric West,
OCDA News
issues dating all the way back to the late 1960's are now available for viewing and downloading in PDF format.
Click here
to access this new OCDA resource and peak back into what OCDA was and what it become over the past six decades.
Join The OCDA Mailing List
If you are not currently receiving emails from OCDA and would like to be added to our email list, please sign-up here:
OCDA Email List
Ohio is home to a wide variety of community choirs. Learn more about them on our feature page for community choirs, and check out where they reside and how they can enrich your life in the art of choral music today.
Check out the OCDA Community Choir page
.