"Promoting choral excellence throughout Ohio."
OCDA Presents "New Directions" Webinar Series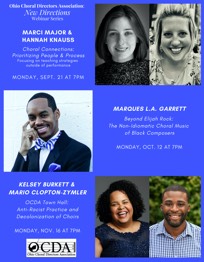 The Ohio Choral Directors Association is pleased to present during Fall 2020 a series of online webinars related to the current state of the practice of choral music-making. At a time of upheaval in our art form and our society, OCDA strives to be a source of inspiration to its members, guiding choral directors as they seek new methods of teaching, new equalities of expression, and new directions for the choirs and singers whom they serve. We look forward to welcoming choral directors near and far and from all areas of the choral community to these important conversations.
Choral Connections: Prioritizing People and Process
Focusing on teaching strategies outside of performance
Marci Major & Hannah Knauss
Beyond Elijah Rock
The Non-Idiomatic Choral Music of Black Composers
Marques L.A. Garrett
OCDA Town Hall
Anti-Racist Practice and Decolonization of Choirs
Kelsey Burkett & Mario Clopton-Zymler
September 21 Webinar Details
Title: Choral Connections: Prioritizing People & Process

Description: What are our priorities? Covid-19 shelter in place challenged choral music educators to think beyond the focus of performance. Now, we must do better in helping students of differing demographics connect. Come to this session to reflect, share, and gain new insight on how to reimagine the choral classroom.

Clinician Bios:
Hannah Knauss is the choral director at Interboro High School. She received a B.M. in Music Education from West Chester University and a M.Ed in Curriculum, Instruction, and Assessment from Cabrini University. At Interboro, she teaches piano, theory, and choral classes. She also directs the theater program. Hannah was selected as the recipient of the 2017 PMEA Outstanding Young Music Educator Award. She currently serves as the PMEA District 12 Treasurer. Outside of teaching, Hannah has conducted and performed with community choirs in the Philadelphia area.

Dr. Marci Major serves as Chair and Associate Professor of Music Education and Music Therapy at West Chester University, PA, directs the Bel Canto ensemble with the Kennett Symphony Children's Chorus, and is Founder and Director of Music Service Learning. In addition, Dr. Major is an active adjudicator, author, clinician, conductor, and researcher. Dr. Major earned her B.S. in Music Education from West Chester University, her M.M. in Choral Conducting from Michigan State University, and her Ph.D. in Music Education from The Ohio State University. Prior to collegiate teaching, Dr. Major taught middle and high school choir in Michigan. Dr. Major resides in West Chester, Pennsylvania, with her husband, son, and daughter.
OCDA News Archive Now Available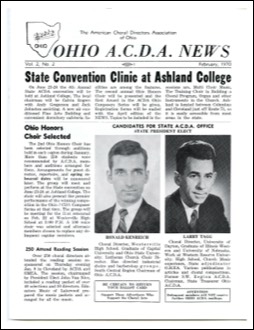 OCDA is proud to announce the introduction of the OCDA News Archive. Thanks to the efforts of OCDA Historian, Amy Gelsone and IT Coordinator, Eric West,
OCDA News
issues dating all the way back to the late 1960's are now available for viewing and downloading in PDF format.
Click here
to access this new OCDA resource and peak back into what OCDA was and what it become over the past six decades.
Virtual Conference A Great Success
OCDA hosted it's first ever Virtual Conference on Tuesday, June 23rd using the Zoom platform. Hundreds of participants from all over North America and beyond participated in presentations, panel discussions, roundtable discussion, virtual concerts, and a virtual "happy hour." Thank you to our guest speakers, Dr. Hilary Apfelstadt & Dr. Scott Edgar for their enlightening and engaging presentations. Thank you to our panelists and roundtable participants for their candor and their expertise. Thank you to the ensemble directors that provided amazing performances for our virtual concerts. Thank you to all who spent the day with us as participants.
Resources from the conference are available by going to our Virtual Conference Webpage. You can access video recordings of the featured presentations, you can download PDF documents of slideshows and discussions, you can access videos of the virtual concert performances and you can view the virtual reading session list with links to demo recordings.
Access the Virtual Conference Webpage here
.
Spring 2020 Edition of the OCDA News Now Available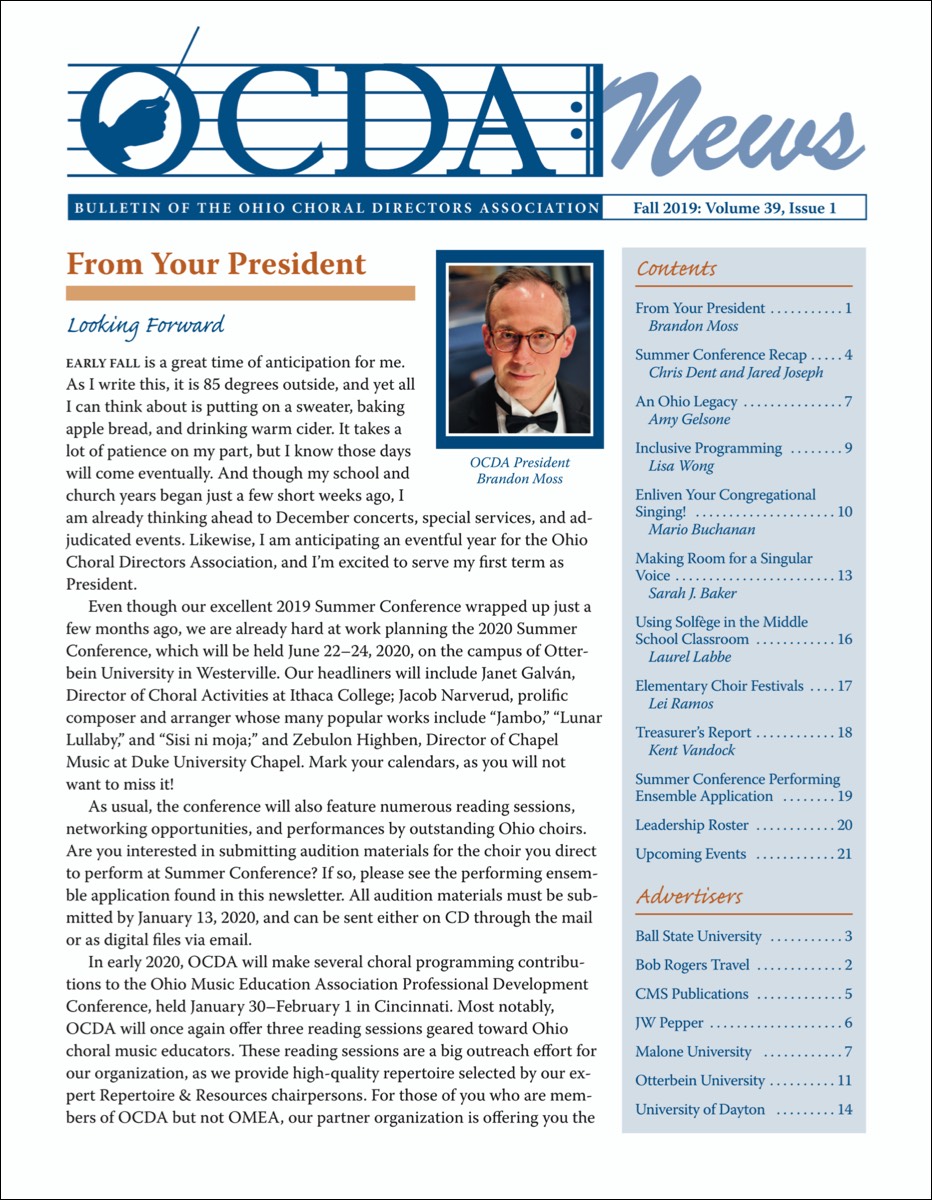 The Spring 2020 OCDA News, the newsletter of the Ohio Choral Directors Association, is now available for viewing as a PDF.
In this issue:

Brandon Moss shares details about our upcoming virtual conference;

Franklin Miller offers insights and tips for remote learning;

Mario Buchanan spotlights the music of Gerald Near;

Jeff Clark presents the outcome of a landmark court case in "fair use" of show choir music;

Laura Kitchel discusses student-centered learning approaches for education at a distance.

Click the link and benefit from the expertise and experience of our board members!

Previous editions of the newsletter are available here
.
Sandra Mathias Receives the 2019 Distinguished Service Award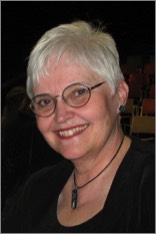 OCDA has the distinct pleasure and honor of presenting the 2019 Distinguished Service Award to Sandra Mathias. Sandy has a lengthy record of service to OCDA and Choral Music.
*Sandy is absolutely passionate about choral music, and about children's choral music in particular. She has dedicated her life's work to singing, teaching children to sing, training teachers of singing, and planning and organizing singing opportunities for children. She has been, and continues to be, very involved in OCDA, serving as a board member in the recent past, as a satellite director for the children's honors choir, as the clinician in 2014 for the children's honors choir, and as a committee member for the children's honors choir. She also served as a clinician for the Elementary Choir Festival in 2013.
**For many years her name has been synonymous with excellence in choral performance and choral pedagogy. From her work as a professor at Capital University, to her founding and administering the summer Kodaly Institute at Capital University, to her artist-level work with the Columbus Children's Choir, Sandy has been a beacon of inspiration with regard to integrating systematic pedagogy with choral performance.
One need only look at her list of professional awards to see that her work and teaching is respected both in the United States and abroad. Guest lectures, a national ACDA conference concert with the Columbus Children's Choir, international tours with the CCC, and awards from prestigious musical organizations all attest to the distinguished career she has led.
Additionally, Sandy has taught and mentored numerous young teachers who devote their careers to students in Ohio. Long after completing a degree at Capital University or a certification program at the Kodaly Institute, students appreciate Sandy's ongoing interest in their careers and they seek her counsel with regard to pedagogical challenges. They know, as do many OCDA members, that Sandra Mathias possesses wisdom by virtue of time served.
*excerpted from Suzanne Walters' nomination letter
**excerpted from Robert Ward's nomination letter
Join The OCDA Mailing List
If you are not currently receiving emails from OCDA and would like to be added to our email list, please sign-up here:
OCDA Email List
Ohio is home to a wide variety of community choirs. Learn more about them on our feature page for community choirs, and check out where they reside and how they can enrich your life in the art of choral music today.
Check out the OCDA Community Choir page
.