"Promoting choral excellence throughout Ohio."
Spring 2022 Edition of the OCDA News Now Available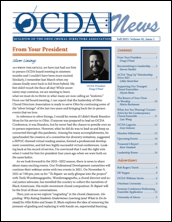 The Spring 2022 OCDA News
, the newsletter of the Ohio Choral Directors Association, is now available for viewing and download as a pdf.
In this issue:
Doug O'Neal provides details about our upcoming summer conference;
Laura Kitchel offers insight regarding mentoring a student teacher;
Jordan Saul addresses vocal health in rehearsal;
Katie Silcott shares her Sunshine Ratio philosophy;
Tyler Skidmore proposes ways to engage your audience's eyes; and
Scott MacPherson describes a timely commissioned composition by Cecilia MacDowell.
Previous editions of the newsletter are available here
.
2022 Summer Conference Registration is NOW OPEN
OCDA is excited to announce that preparations are under way for the return of our in-person Summer Conference. The officers and conference staff have been working diligently to put together an amazing professional development event that brings together choral directors from all levels. Once again hosted on the campus of Otterbein University, this summer's conference will run June 20th through June 22nd and feature headlining clinicians, reading sessions all levels and genres, a high school and children's honor choir and social events to help re-kindle the camaraderie we have enjoyed for many decades. Click on the picture below to be taken to the conference web page. It will contain up-to-date information including:
Clinicians
Instructions for honor choir nominations
Links to online registration
Schedule of events
Links to housing information
And more
Click the conference graphic to be taken to the Summer Conference Webpage.
Treble Choral Festival Coming Back
We look forward to bringing back the Treble Choral Festival in Winter of 2023 but are looking for your input to best serve our beginning choral singers! Please take two minutes to complete this survey to help us plan:
https://forms.gle/7b22StiqBBH3Brgv9
MS/HS Free Clinics with Retired OCDA Teachers
OCDA is reactivating our 2020 project with retired members who are willing to serve as clinicians for your choirs before contest or other performances. We will provide a set of "extra ears" at no cost to your school. OCDA will cover travel and there is no required honorarium.
Click here for the list of available clinicians
. Please contact your desired teacher via email as provided. If you have general questions about the project, contact Hilary Apfelstadt at
hilaryapfelstadt1@gmail.com
.
DEI Resources Now Available
OCDA is proud to offer a new space on it's website dedicated to Diversity, Equity and Inclusion resources.
Click here
to see what's available.
OCDA News Archive Now Available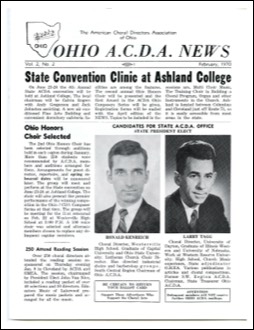 OCDA is proud to announce the introduction of the OCDA News Archive. Thanks to the efforts of OCDA Historian, Amy Gelsone and IT Coordinator, Eric West,
OCDA News
issues dating all the way back to the late 1960's are now available for viewing and downloading in PDF format.
Click here
to access this new OCDA resource and peak back into what OCDA was and what it become over the past six decades.
Join The OCDA Mailing List
If you are not currently receiving emails from OCDA and would like to be added to our email list, please sign-up here:
OCDA Email List
Ohio is home to a wide variety of community choirs. Learn more about them on our feature page for community choirs, and check out where they reside and how they can enrich your life in the art of choral music today.
Check out the OCDA Community Choir page
.