"Promoting choral excellence throughout Ohio."
OCDA 2021 Summer Conference Registration Now Open
In the interest of public health, this year's annual summer conference will be a virtual event. Please consider joining us on June 21st and 22nd for an incredible professional development opportunity. This year's conference features expertise and talent from all over the country from world renowned choral musicians. This is a very affordable event offering a diversity of choral music areas appealing to as much of our choral music community as we have ever fielded.

Click here to go to the Summer Conference page for complete information on our clinicians, events and activities. Click the button below to go immediately to the conference registration site.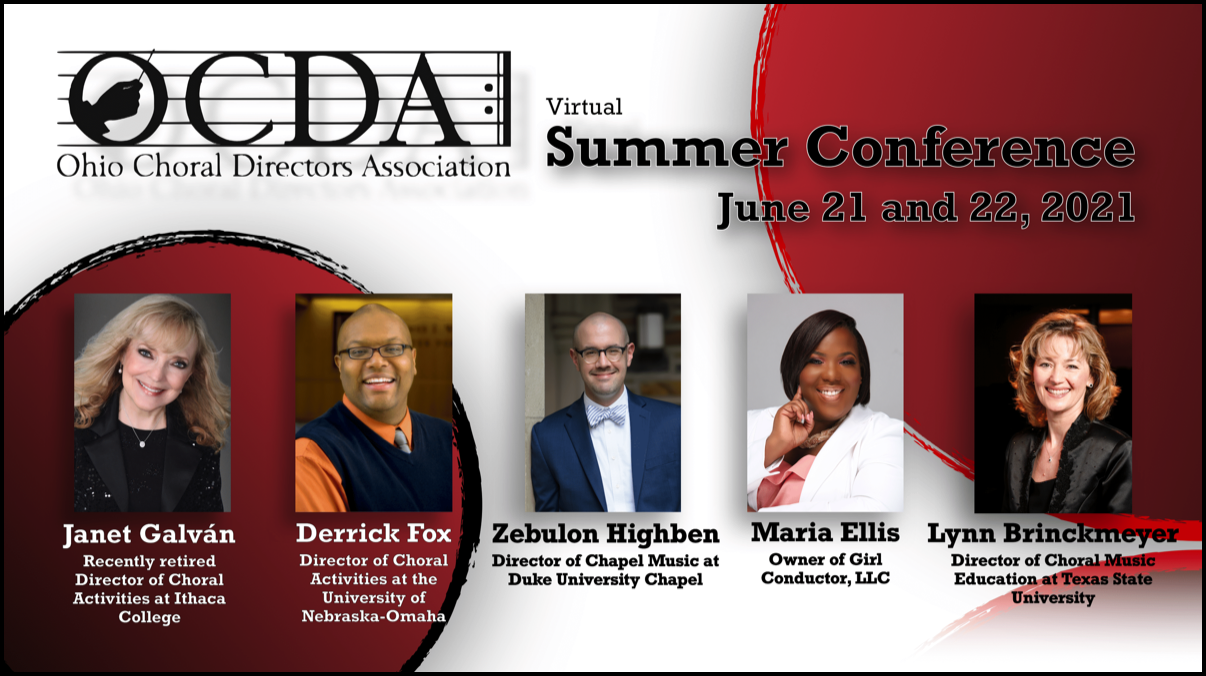 Spring 2021 Edition of the OCDA News Now Available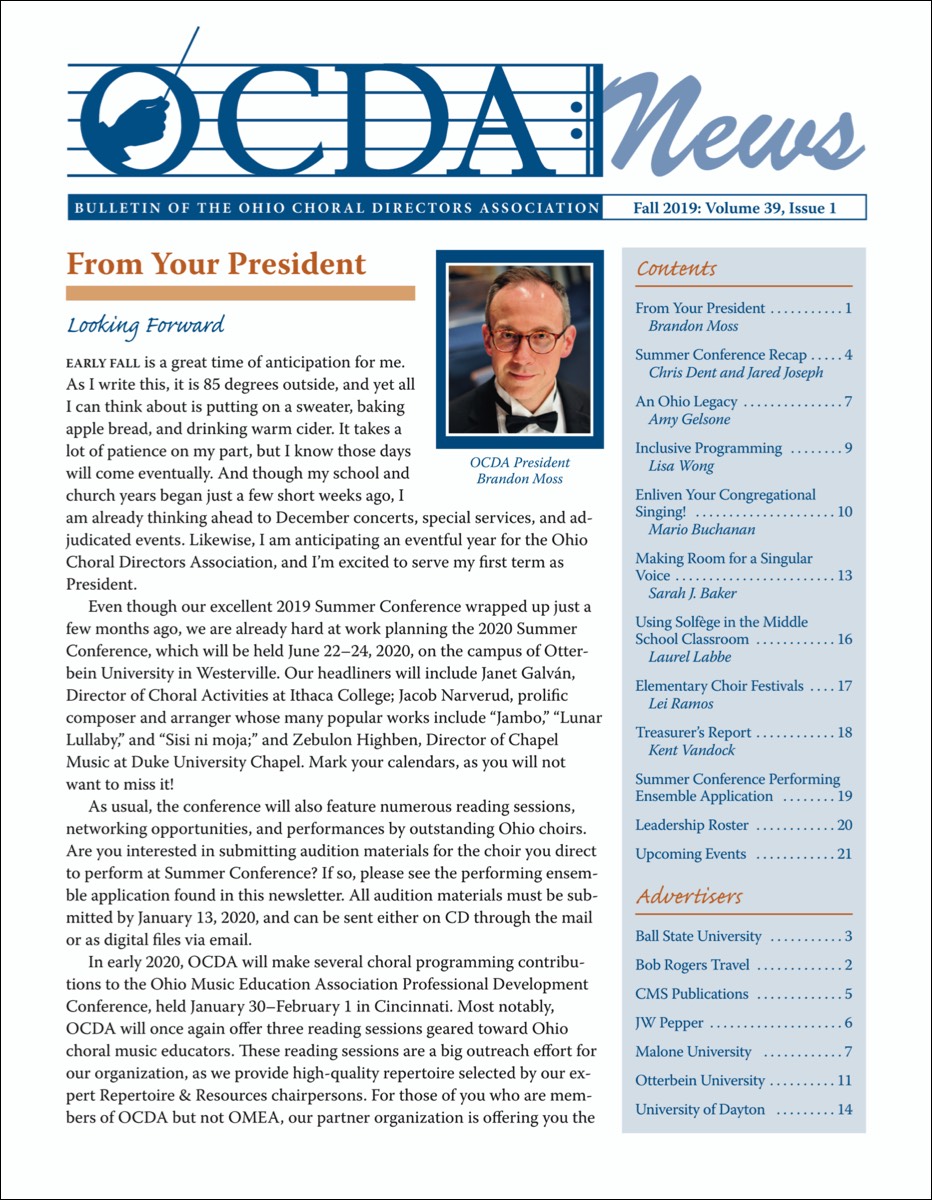 The Spring 2021 OCDA News
, the newsletter of the Ohio Choral Directors Association, is now available for viewing as a PDF.
In this issue:

From Your President - Brandon Moss

Building Confidence in Middle School Singers by Building Community - Laurel Labbe

Summer Conference info - Daniel Landis

Mindfulness for the Conductor - Doug O'Neal

A Holistic Audition Approach: Creating an Educational Opportunity for All - Beth Vaughn

MemberMilestones

Recruit, Retain, and Inspire - Ian Stasko
Click the link and benefit from the expertise and experience of our board members!
Previous editions of the newsletter are available here
.
Have Your Ensemble Perform at the 2021 Summer Conference
If you have a great video recording of your performing ensemble and would like to have it featured in one of our summer conference concert sessions, please click the link below to be taken to the application. The application contains all of the instructional information for submission. If you have questions please contact the
Summer Conference Chair
.
OCDA Summer Conference Performing Ensemble Submission
Previous OCDA Webinars Available
The "New Directions" Webinar series offers OCDA members and choral directors throughout the world the opportunity for professional development in a diverse field of timely topics. If you missed any of the previous webinars or would like to watch them again, they are available here. Please click the button below to access the webinar of your choice.
View the video recordings of the October and November webinars:
OCDA News Archive Now Available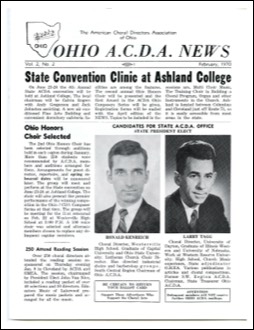 OCDA is proud to announce the introduction of the OCDA News Archive. Thanks to the efforts of OCDA Historian, Amy Gelsone and IT Coordinator, Eric West,
OCDA News
issues dating all the way back to the late 1960's are now available for viewing and downloading in PDF format.
Click here
to access this new OCDA resource and peak back into what OCDA was and what it become over the past six decades.
Virtual Conference A Great Success
OCDA hosted it's first ever Virtual Conference on Tuesday, June 23rd using the Zoom platform. Hundreds of participants from all over North America and beyond participated in presentations, panel discussions, roundtable discussion, virtual concerts, and a virtual "happy hour." Thank you to our guest speakers, Dr. Hilary Apfelstadt & Dr. Scott Edgar for their enlightening and engaging presentations. Thank you to our panelists and roundtable participants for their candor and their expertise. Thank you to the ensemble directors that provided amazing performances for our virtual concerts. Thank you to all who spent the day with us as participants.
Resources from the conference are available by going to our Virtual Conference Webpage. You can access video recordings of the featured presentations, you can download PDF documents of slideshows and discussions, you can access videos of the virtual concert performances and you can view the virtual reading session list with links to demo recordings.
Access the Virtual Conference Webpage here
.
Join The OCDA Mailing List
If you are not currently receiving emails from OCDA and would like to be added to our email list, please sign-up here:
OCDA Email List
Ohio is home to a wide variety of community choirs. Learn more about them on our feature page for community choirs, and check out where they reside and how they can enrich your life in the art of choral music today.
Check out the OCDA Community Choir page
.