"Promoting choral excellence throughout Ohio."
Fall 2021 Edition of the OCDA News Now Available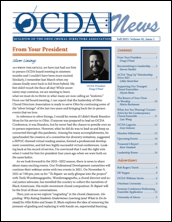 The Fall 2021 OCDA News
, the newsletter of the Ohio Choral Directors Association, is now available for viewing as a pdf.
In this issue:
• From Your President – Doug O'Neal
• Recommitting to Leadership – Steven Hankle
• ACDA "Sing Up" Membership Drive – Libby Hainrihar
• Supporting our Youngest Choral Ensembles – Alyson Bates
• The Return of Your Choir to Worship – Mario Buchanan
• What Are You Wearing? Concert Attire for the Contemporary Choral Ensemble – Lisa Wong
• OCDA Legacies – Amy Gelsone
• Details about our webinar series: don't miss Tesfa Wondemagegnehu on Nov. 9!
• Member Milestones
Click the link and benefit from the expertise and insight of our board members!
Previous editions of the newsletter are available here
.
DEI Resources Now Available
OCDA is proud to offer a new space on it's website dedicated to Diversity, Equity and Inclusion resources.
Click here
to see what's available.
OCDA News Archive Now Available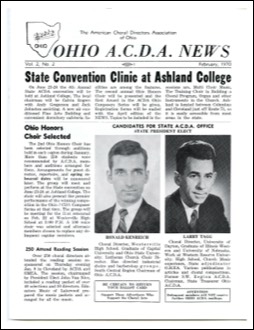 OCDA is proud to announce the introduction of the OCDA News Archive. Thanks to the efforts of OCDA Historian, Amy Gelsone and IT Coordinator, Eric West,
OCDA News
issues dating all the way back to the late 1960's are now available for viewing and downloading in PDF format.
Click here
to access this new OCDA resource and peak back into what OCDA was and what it become over the past six decades.
Join The OCDA Mailing List
If you are not currently receiving emails from OCDA and would like to be added to our email list, please sign-up here:
OCDA Email List
Ohio is home to a wide variety of community choirs. Learn more about them on our feature page for community choirs, and check out where they reside and how they can enrich your life in the art of choral music today.
Check out the OCDA Community Choir page
.